Where We Dump Our Materials
The construction industry is known for creating more waste than any other sector in the USA. The vast majority of this waste actually ends up in a landfill. Every time you dispose of waste improperly, it has a monumental impact on the environment. If you want to do something about this, then it is so important that you go through a waste management company, such as ours. When you hire us, you will be glad to know that we put a huge focus on being sustainable and that we also make sure that we get rid of any waste that you have in the most environmentally friendly way possible. Want to find out more? Keep on reading.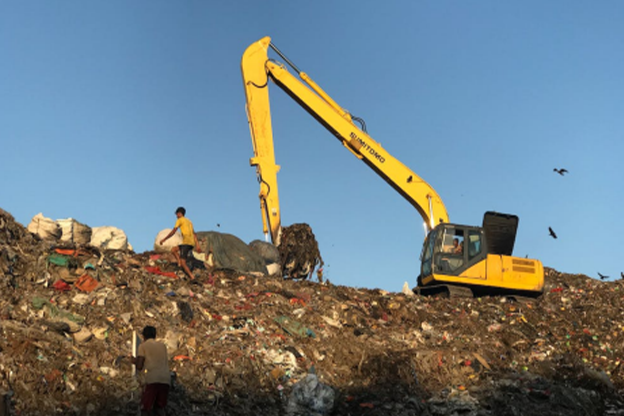 Dumping by Using City Dumps
Today's city dumps are fully regulated, and they also have well-engineered facilities. They operate under strict regulations, and they ensure the protection of both human health as well as the environment. A city dump has various layers of protection that helps to isolate any waste from the environment too. If you look back at the garbage dumps from your grandfather's generation, then you will soon see that things have changed so much and that now there are green solutions available even for construction waste. City dumps also create a lot of economic opportunities for local areas. Prior to the city dumps that we have today, waste was often dumped or sometimes burnt in the worst location possible, with very little thought given to engineering controls. On top of this, a lot of the dumps required significant clean-up too. Today however, city dumps are able to cater to every aspect of the environment. They are sensitive to air, groundwater, and stormwater, meaning that a lot of the issues you would normally see have been eliminated or managed, ensuring that the environment is always a priority.
What Waste do City Dumps Handle?
City dumps can handle a lot of non-hazardous material as well as construction and demolition waste. They are also capable of handling coal ash, medical waste, and liquid waste. The main thing that you have to know about city dumps is that they also have strict requirements when it comes to construction waste and post-closure care. Modern city dumps tend to be very high-tech, and they are also monitored through water control and air emissions. This helps to minimize the amount of issues that they generate for the environment. On top of this, it is vital to know that employees are able to monitor families like this by providing a range of quality-control measures. Modern city dumps are tested, monitored and safe. They are also looked after in a way that is environmentally safe, with federal regulations restricting city dumps that may be based along wetlands, floodplains, and more. Layers of liners and collection systems help to stop any groundwater by collecting and then managing the liquid that could be generated by certain types of waste.
Air Emissions and City Dumps
NSPS standards help to govern the amount of air emissions that come from city dumps. Sources that fall under regulations like this have to collect and then control any landfill gas that may be generated. The rule is prescriptive when you look at its implementation. Flaring is considered to be BACT, which is the best available technology for control. City dump gas is a product that stems from anaerobic decomposition of any kind of organic materials. Usually, it consists of methane, carbon dioxide, and more. Methane is the energy component that comes from city dumps as well as landfill gas. It has a ton of beneficial uses too. When it can be captured, you can turn it into energy that can be used to power lights, as well as homes and compressed gas vehicles. Prominent methods have now enabled companies to use this renewable energy in more ways than one. If you are disposing of construction waste on its own, then look below to find out what happens to it.
Construction Waste after it Goes in the Dumpster
Construction workers often wonder, what happens to their materials after they put them into the dumpster. This is a very valid question. We can assure you that we do everything in our power to ensure that our nation is as environmentally friendly as possible. A lot of the materials that you put into our dumpsters will be taken to a local recycling facility where possible. When we load up your dumpster, we will then weigh the waste and load it off into a holding bay. Recyclable materials are then split from the materials which cannot be recycled. Lumbar, drywall and cardboard are split and identified, so they can be re-grouped for salvage. If possible, it will then be sent to a secondary market. Untreated wood scraps can be sent to energy plants for burning and if we have pieces of drywall then this can be put into a textured wall spray or even an acoustical coating. Cardboard can be reprocessed so that it can be made into a greeting card or insulation. Fiberglass materials can be made into ceiling tiles and it is also possible to use plastics in this way too.
Metals and Masonry
When you go through a company such as ours, we will do everything in our power to dispose of any old metal or masonry you may have. Metals can include copper piping, steel banding, flashing, lead chimney material, and nails. Metals are usually taken to a facility that specializes in recycling this kind of product, and we will also ensure that any masonry goes to the corresponding recycling plant where possible too. When using city dumps, you basically guarantee that as much of the waste is being recycled as possible. Keeping materials out of your main bins will mean that you are doing your bit for the environment. At the end of the day, we pride ourselves on being a company that thrives on helping the environment and we really do appreciate any concerns that our customers may have about where their waste is going to end up. When you come through us, you can rest assured knowing that the disposal methods we use are going to be carried out with careful attention to the general environment and that we are always looking for ways to step up our commitment to the planet.
Ways that You Can Dispose of your Household Waste
If you have an old basement that you need to clear out, then you probably won't want to spend most of your time going through each item and splitting off what can be recycled and what can't. This is understandable, but there are things that you can do to try and make things easier on yourself. Hiring our dumpster service will provide you with an easy and practical way to get rid of a lot of waste at once, without having to concern yourself with the impact that you are having on the environment. If you want to dispose of your household waste, then you can do this through donations or you can even take advantage of drop-offs if you want.
Selling your Items
If you have things like old mirrors, chairs, or cabinets, then it may be possible for you to donate them. The great thing about donating items like this is that you can help someone out who truly needs it. If you have items which are in very good condition, then it may even be possible for you to make a small profit by selling them. You never know when someone is going to need your product for an upcycling project, so try and keep this in mind. If you have items that are in very good working condition, then you may be able to take them to a drop-off center. A lot of places will accept appliance donations too, so if you have a lot of old appliances that you need to get rid of, then keep this in mind. If you can get rid of your big or bulky appliances this way, then this will free up room in your dumpster, so you can then throw away things that may be a little harder to donate or get rid of. If you have a lot of old flooring or carpet that you intend to throw away, then, believe it or not, you can donate this too, although sometimes you will be charged a fee.
Visit Landfills
If you are not able to donate your items, then you will have to visit a local landfill or a dump. Hauling waste can be tiresome and cumbersome, not to mention that there are some things that can't be disposed of here. Most of the time you won't be experiencing issues such as this, as a lot of landfills will dispose of your non-recyclable waste in a way that is truly safe for the environment. Some landfills will have certain places for scrap metal, any big appliances, or even copper. If you can't be bothered to split out your waste such as this, then we can do it all for you. When you come to us, we will take a lot of the manual work out of the job for you, as all you have to do is load up your dumpster. We will then take it away for you so all you have to do is sit back when it's full. It's that simple and we are here to ensure that we not only give you the most efficient service, but that we also make sure that we do our bit for the environment.
Hire Our Dumpsters
Don't want to concern yourself with the hassle of taking trip after trip to your local dump? Then our team are here to give you all of the help you need. When you work with us, you will be glad to know that we can help you to remove any renovation debris and we can also remove any household waste that you may have too. When you use our local garbage service, you will soon find that we can give you very affordable prices. The main reason for this is because we will only ever charge you based on the dumpster that you hire, and we can also handle items of various sizes too. By renting a roll-off dumpster through us, we can ensure that you get any waste you need disposed of in the best way possible. All you have to do is book the dumpster you need online, and we will then come to collect it whenever you are ready. You can fill up your dumpster over a number of days, and you do not need to worry about whether your waste is recyclable or not. The main reason for this is because the city dump that we will take your trash to will recycle as much of it as possible anyway so you can eliminate a lot of steps while still doing your bit for the environment.
Of course, there are many things that you can do to try and make sure that you recycle as much of your waste as possible. City dumps are now more environmentally friendly than ever, and they also help people to avoid the temptation of fly-tipping too. When you come to us for a dumpster, we will always dispose of your waste in the most environmentally friendly way possible too, so you truly have nothing to worry about there. With years of experience and a team who will do just about anything to ensure that you get the service you need, it's safe to say that you won't find anyone who cares as much, or who tries as hard as our company does. Want to find out more about how we can help you? Give us a call today at (602) 344-0093. You can speak with our sales team between 7am and 5pm, not to mention that we also handle deliveries between 7am and 3pm so you don't have anything to worry about. We will always come at a time that suits you.