What materials can and can't go into a dumpster?
Renting a roll off dumpster in Arizona but need to confirm what materials can be disposed of via the portable waste container? Call AZ Dumpster Rentals at (602) 344-0093 today.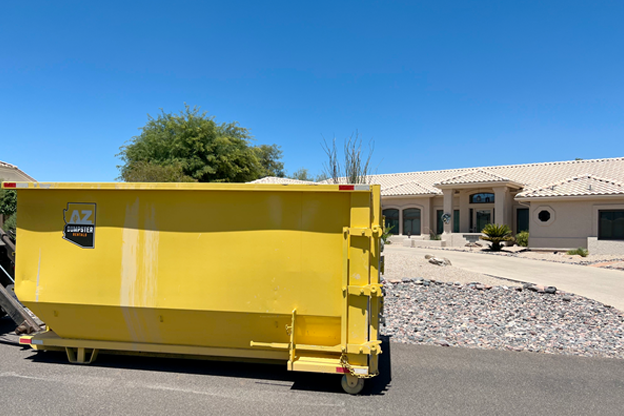 Dumpsters are an essential product for home remodeling, construction, and landscaping jobs alike. Before hiring a dumpster, though, several questions must be answered. Confirming what materials are allowed to be thrown into your movable waste container should be one of the top items on your agenda.
Here at AZ Dumpster Rentals, we are fully committed to helping our valued customers throughout the Phoenix metro area by connecting them to the best roll-off dumpster for their specifications.
However, understanding what materials can and can't go in a dumpster process will help you determine whether a dumpster is needed and what size is right for your needs. This quick guide will provide the answers you need.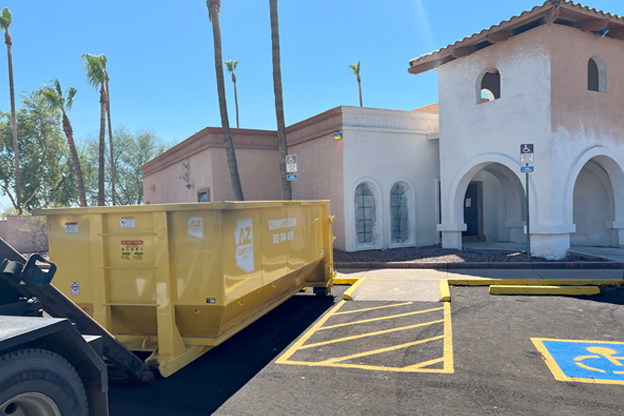 How big should your roll-off rental dumpster be?
No two clients are the same, which makes it difficult to determine the exact size of dumpster needed without speaking to you first. Generally speaking, a residential project like a home renovation or decluttering session will only need a 10-yard or 15-yard dumpster while a commercial fit-out may require a larger 20-yard or 30-yard unit.
Roll-off dumpsters are a great option due to their versatility in both size and acceptable materials. Their popularity is further highlighted by their suitability for homeowners, house flippers, building contractors, and business owners alike.
Our roll-off dumpster rentals in Arizona also provide the additional benefit of having a footprint of 14' x 8'. The only difference between sizes comes courtesy of the height, with the 15-yard unit standing 4.5' for a total capacity that is roughly the equivalent of seven pickup trucks.
Size matters, but knowing what items are permitted in a dumpster is another.
What can't go in your rental dumpster?
Before considering what materials can be put in a dumpster, you must first check out what products are not allowed. The good news is that most items that you could want to trash during a residential or commercial project will be permitted. Nevertheless, there are some restrictions under the Arizona Department of Environmental Quality guidelines as well as national regulations
The most notable items that are not allowed to be put in a rental dumpster are detailed below:
Municipal solid waste
Also referred to as stinky waste, municipal solid waste is a term that essentially covers the materials that would be collected by your local garbage disposal team. In this instance, it is best to keep using your standard trash disposal methods for those items. Alternatively, front-end dumpsters are suited for on-site municipal solid waste management.
Mattresses
Most furniture and household foods can be put in a roll-off dumpster. However, mattresses are the notable exception. You could look to sell or donate the product or hire a professional disposal team. Alternatively, you can take them to a landfill or disposal facility yourself. However, these locations are likely to charge a fee.
Refrigerator
When dealing with household appliances, most items are allowed to be disposed of via your roll-off dumpster. However, refrigerators are the standout exception to the rule, mainly due to hazardous chemicals like CFCs. As with mattresses, there are several solutions to consider including sales, donations, and responsible disposals.
Asbestos
Generally speaking, you can use your dumpster for a wide range of debris materials that would be produced from any sort of wall or roof replacements and demolition jobs. However, if the building has asbestos it must be treated by a licensed asbestos contractor. Still, your dumpster could be used for furniture or other items that are not a part of the structure itself.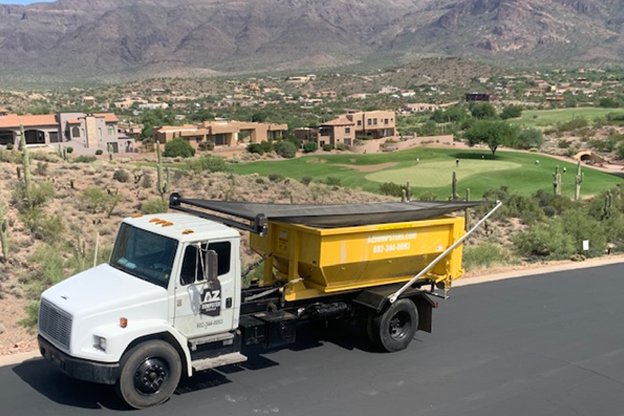 Medical waste
Any item that has come into contact with bodily fluids or is used for medical purposes cannot be dumped in the dumpster. This includes blood bags, blood-stained clothes, dialysis waste, medications, needles, and other used paraphernalia. While primarily considered an issue for healthcare businesses, medical waste could be relevant for homes too.
Delicate paperwork
When a business needs to dispose of paperwork that includes potentially sensitive data, it must dispose of the items using a dedicated paper shredding company. Aside from using environmentally-friendly methods, it is an essential step for meeting legal compliance regulations. Personal paperwork must also be shredded and bagged.
Cleaning liquids
Cleaning materials often hold dangerous materials. The containers may be recycled in your dumpster but the liquids themselves must not be added. Pesticides, motor oil, automotive fluids, and freon are other examples of hazardous materials that must not be put in the dumpster as per state EPA and national EPA guidelines.
Adhesives or inks
Adhesives like epoxy materials that could bind to other items are not allowed. Meanwhile, inks cannot be added to the dumpster because they can stain the dumpster and spoil other items that you have put in the dumpster. Paints, lacquer, and wood stains must also be avoided due to the chemicals that they include.
Oils or fuel
There is a simple reason why oils, fuel, and flammable gases can't be put in the roll-off dumpster. They are a major safety hazard. To you. To anyone else who is working on the site. And to any neighboring people. If you are working with flammable materials during the building clearance project, speak to a hazardous material expert to arrange a solution.
Tires
Tires must not be added to the dumpster if they are still in their whole state. This is because they can trap methane. This causes them to move upwards when in the landfill, which may disrupt the landfill and damage the environment. An auto parts store is the best outlet for disposing of these items.
What can go in your rental roll-off dumpster?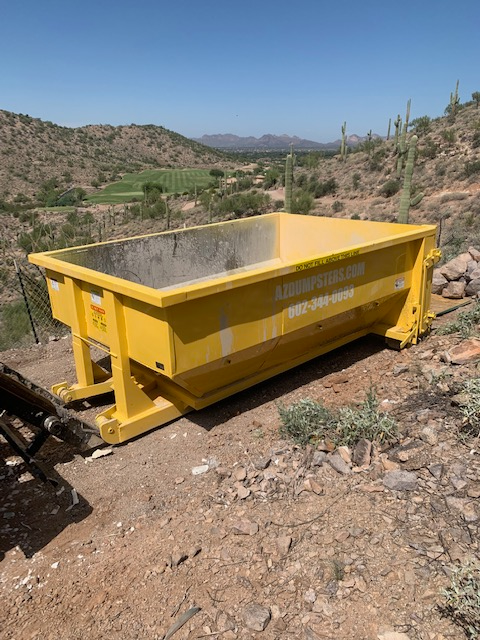 Now that you have an idea of the materials that can't be added (essentially any time that is hazardous to the environment or poses data risks to humans) to the dumpster, you can start to focus on the items that your dumpster can be used for. The great news is that you can mix virtually any of the products, which means the dumpster rental in Phoenix has the versatility to support a range of projects.
If you need to dispose of the following items as a part of your waste disposal, the rental dumpster offers a perfect solution.
Construction waste
Construction waste and old items that are removed ahead of a home improvement are the most common items that people wish to add to their dumpster. Products can be whole or broken into small pieces. So, you can quickly tear down the unwanted items and place them in the dumpster ready for collection.
Materials include concrete, bathroom and kitchen fixtures, drywall, asphalt, stone, siding, tiles, flooring, cabinets, brickwork, countertops, roofing materials, and more. As long as they aren't excessively heavy, the items are permitted.
Electronics
If you are disposing of a lot of electronic items (usually an office clearout), you may need to contact an expert. For individual or small batches of electronics, though, you are free to put them in your dumpster as Arizona is not one of the states that have strict e-waste recycling laws prohibiting this activity. Our experts dispose of electronics responsibly.
Any broken electronics including TVs, radios, consoles, computers, hairdryers, and VHS players can be added. There are some circumstances where items can be sold. When products are faulty, though, trashing them is advised.
Appliances
Most appliances can be added to the dumpster, which is another key reason for its popularity given how difficult (and costly) it can be to dispose of items like dishwashers and AC units. You will need to ensure that they have been effectively drained before doing this, though, as undrained items could pose hazards.
While it has previously been stated that refrigerators cannot be put in your dumpster, you are allowed to do it if the unit has been drained of freon and chemicals. In virtually all cases, though, this is a very impractical solution.
Alkaline batteries
All regular alkaline batteries can be put in the dumpster. This includes AA, AAA, 9-volt, and C batteries. For those who remember a time when batteries had to be disposed of with added care, the reason is that they used to contain mercury. This has not been the case for 25 years, meaning you can safely add these batteries to the dumpster.
However, it should be noted that non-alkaline batteries must not be put in the roll-off dumpster. This includes; car batteries, computer batteries, lead-acid batteries, lithium-ion batteries, and silver oxide batteries.
Household containers
Most general household waste that doesn't fall under the categories of hazardous or municipal solid waste may be added to your rental dumpster. Materials include trash, furniture, siding, and toys. Our experts can usually confirm whether the items you plan to add are suitable, or the EPA can be contacted if you're still unsure.
It has already been confirmed that you can add containers of cleaning materials as long as they have been cleaned in advance. Likewise, empty aerosol cans ranging from cooking oils to deodorants may be disposed of via the dumpster route.
Backyard waste
If you are hiring a dumpster ahead of a landscaping project or want to declutter the yard as well as the home, there is good news. Laves, fallen branches, and other garden debris can be bagged and added to the dumpster for easy yard waste disposal. This covers items that have already fallen as well as bushes that you may trim during this time.
The successful disposal of yard waste can be a key precursor to completing a successful landscaping project in Arizona or simply unlocking the full potential of your external spaces. A roll-off dumpster rental will provide the ultimate solution.
Wooden furniture
Tables, chairs, sideboards, and other furniture made exclusively from wood can be added to the dumpster. This includes items that have metal knobs or handles. Meanwhile, any glass shelves and tabletops are recyclable. You should, however, take care to prevent the risk of cuts or similar damage that could occur.
Heavily upholstered furniture will not be allowed in the dumpster, but items with a small amount of fabric may be accepted. It is something of a gray area, which means you may wish to call our team in advance.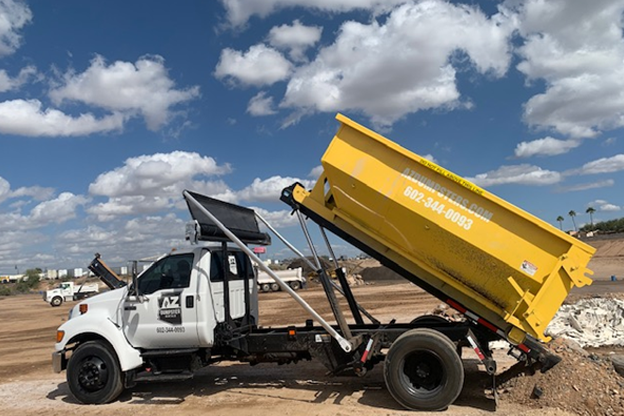 Lumber
As well as wooden furniture, you can add lumber to the dumpster. This includes two-by-fours and studs while even tree trunks are permitted, although extra costs may be required depending on the size and weight. You can discuss this with our experts and check that the right size of dumpster is ordered.
However, treated lumber is not allowed and should be disposed of using alternative methods. This includes railroad ties and other items found in industrial settings, extending to Borate, Alkaline Copper Quat (ACQ), and non-combustible (Non-Com) materials.
Non-organic trash
A wide range of non-organic trash items can be added to the rental roll-off dumpster too. The materials under this category include fabric materials like curtains and carpets, as well as cardboard sheets and other packaging materials. This is very useful if hiring a dumpster following a move to the Grand Canyon State.
In many cases, non-organic trash may fall under the categories of construction waste or furniture. In truth, it doesn't matter. If the items are permitted under local regulations, they can be added to your unit from AZ Dumpster Rentals.
Dirt and events waste
While general household waste should be added to your standard municipal garbage disposal units, there are some exceptions. When the dumpster is placed on location at an event such as a trade show, music festival, or sports event, you can place "household waste" items into the dumpster.
Finally, you are also permitted to dispose of dirt in Arizona using a dumpster. However, you should speak to our experts about these plans to ensure that the right type of movable waste management container can be selected.
Order your rental dumpster today
By now, you should have a clear understanding of whether a dumpster rental is a great choice for your project. If you need to hire a roll-off waste container ASAP or want to speak with an agent to discuss your options, AZ Dumpster Rentals is here to help.
We pride ourselves on offering a professional, prompt, and practical service that offers exceptional value for money to customers throughout Phoenix and the surrounding metro area. Contact us to ask about availability or book your rental dumpster delivery today.