What Dumpster Size Fits My Needs?
If you're planning a renovation, construction project, or major cleanout, you'll need a dumpster to dispose of the waste. But with so many different sizes of dumpsters available, it can be tough to determine which one is right for your needs. We'll provide a guide to choosing the right size dumpster and the options available at AZ Dumpsters.
10ft Dumpster A 10ft dumpster is the smallest option available and can hold up to 3 tons of waste. This size dumpster is perfect for small projects, such as a room renovation or a small cleanout. It's also an affordable option for those on a tight budget.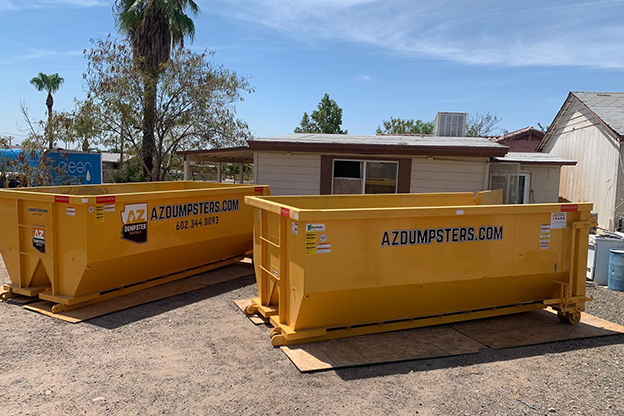 15ft Dumpster The 15ft dumpster is a popular choice for those undertaking medium-sized projects. It can hold up to 4 tons of waste, making it ideal for larger cleanouts, garage or basement cleanouts, or small to medium-sized construction projects.
20ft Dumpster The 20ft dumpster is the most popular size, as it can accommodate a variety of projects. It can hold up to 6 tons of waste and is perfect for larger construction projects, roofing jobs, and complete home cleanouts. It's also a great option for businesses that generate a moderate amount of waste.
30ft Dumpster The largest option available at AZ Dumpsters is the 30ft dumpster. It can hold up to 9 tons of waste and is perfect for large construction projects or complete home renovations. It's also a great choice for businesses that generate a significant amount of waste.
How to Choose the Right Dumpster Size To choose the right size dumpster, you should consider the amount and type of waste you'll be disposing of. If you're unsure about the size you need, it's always better to go up a size to avoid overloading the dumpster. Overloading a dumpster can result in additional fees or even damage to the dumpster.
Another factor to consider is the location where the dumpster will be placed. Ensure that you have enough space for the dumpster and that it won't obstruct traffic or create a safety hazard.
In conclusion, choosing the right size dumpster is crucial to ensure your project runs smoothly and efficiently. At AZ Dumpsters, we offer a variety of dumpster sizes to fit your needs. From small cleanouts to large construction projects, we have a dumpster that's perfect for you. Contact us today to discuss your project needs and to schedule a dumpster rental.