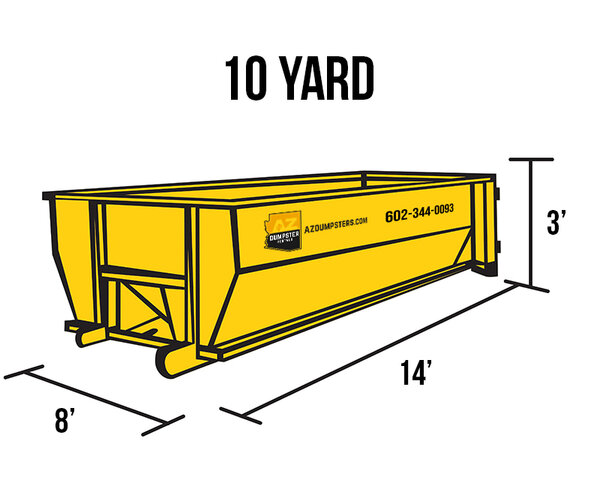 Days: Up to 7 days
Rent Time Extension: $10/day after day 7
Ton(s): No Weight Limit
Description
Dimensions:
- 14' long
- 8' wide
- 4.5' tall
- 15 cubic yards
Capacity - about 7 Pickup Truck loads
The 15 yard dumpster rentals are the most popular dumpster rental size. This size can be great for a room remodel, bathroom remodel, small construction project, spring cleaning, or junk removal.
When you are renting a dumpster you need to consider several things.
1. What size dumpster do you need? The size of dumpsters can vary greatly. Many companies have large oversized dumpsters that have walls so tall that you cannot effectively get trash into your dumpster. We have built our dumpsters to be easy to get materials into the dumpster with ease.
2. Do you need the dumpster delivery at a specific time? We will ask about your time frame at checkout. We generally give you a time frame for delivery but can offer time-sensitive delivery based on your needs. Time sensitive dumpster delivery is an additional charge.
3. What materials do you want to put into your dumpster rental? We accept solid waste only in our dumpsters. We do not allow tires, hazardous waste, paint, gasoline, flammable liquids, concrete washout, concrete blocks, bricks, dead animals, propane tanks, and other hazardous materials in our dumpsters. If you have questions regarding our policies regarding dumpster rentals please contact us.
A 15 yard dumpster rental is a great start to your project. Whether you are a DIY remodeler, a house flipper, or a contractor the 15 yard dumpster is the perfect rental for you.
These dumpsters are not suitable for bricks, rocks, concrete, dirt, gravel, or tile. If you need this type of material hauled please use a smaller container. We will not haul away containers that contain these materials.
Does your job require a smaller dumpster size? If so, check out our 10 yard dumpster.