Dumpster Rental Tips for DIY Home Improvement Projects in Phoenix
Embarking on a DIY home improvement project can be an exciting and fulfilling experience. Whether you're renovating a kitchen, revamping the landscaping, or decluttering your living space, having a reliable dumpster on hand can significantly streamline the process. For homeowners in Phoenix, Arizona, looking to tackle DIY home improvement projects, these dumpster rental tips can make the process smoother, more efficient, and hassle-free.
1. Assess Your Project Needs
Before you rent a dumpster, assess the scope of your DIY home improvement project. Understand the type and volume of waste you expect to generate during the project. This evaluation will help you determine the appropriate dumpster size needed to accommodate your waste disposal requirements effectively.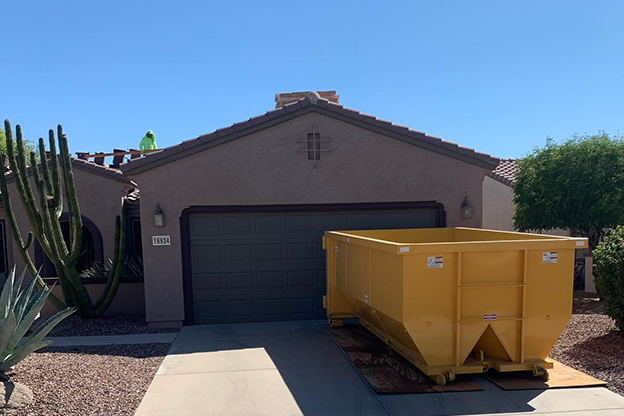 2. Choose the Right Dumpster Size
AZ Dumpsters, a trusted dumpster rental company in Phoenix, offers a range of dumpster sizes suitable for various DIY home improvement projects. Choosing the right dumpster size is crucial to ensure you have enough capacity to handle the waste without overfilling. Opting for a size slightly larger than what you think you'll need can provide a buffer and prevent the hassle of additional pickups.
3. Proper Waste Segregation
Segregating waste as you go is an essential practice during DIY home improvement projects. Separate materials like wood, metal, concrete, and general debris to facilitate recycling. This not only reduces environmental impact but also helps in complying with local waste disposal regulations.
4. Consider Dumpster Placement
When renting a dumpster for your DIY home improvement project, consider the placement of the dumpster on your property. Choose a location that is easily accessible for loading, preferably close to the work area. Ensure that the dumpster's placement doesn't obstruct walkways or pose safety hazards.
5. Load the Dumpster Efficiently
Loading the dumpster efficiently is key to optimizing space and ensuring you're using its full capacity. Break down larger items into smaller pieces to maximize space and distribute weight evenly. This not only prevents overloading but also ensures the dumpster remains stable during the loading process.
6. Communicate with the Dumpster Rental Company
Maintaining open communication with the dumpster rental company throughout your DIY project is essential. Keep them informed about any changes in waste volume or schedule adjustments to ensure timely pickups and drop-offs. Clear communication helps prevent any disruptions to your project timeline.
7. Adhere to Local Regulations
Adhering to local waste disposal regulations is critical during DIY home improvement projects. Ensure that you understand and comply with Phoenix's specific regulations regarding residential waste disposal. AZ Dumpsters can provide guidance on local regulations and assist you in navigating any compliance requirements.
8. Promote Sustainability
Incorporate sustainable waste management practices into your DIY project. Partnering with a dumpster rental company like AZ Dumpsters, which emphasizes recycling and responsible waste disposal, can contribute to your eco-friendly initiatives. By recycling and disposing of waste responsibly, you can minimize your project's environmental footprint.
Conclusion
Renting a dumpster for your DIY home improvement project in Phoenix can significantly simplify the waste disposal process and help you maintain a clean and organized work environment. By following these dumpster rental tips and partnering with a reliable company like AZ Dumpsters, you can ensure a seamless and efficient waste management process. Effective waste disposal not only enhances the overall success of your DIY project but also contributes to a safer and more sustainable living environment for you and your community.